Paris attracts so many visitors, from New York or from all over the world, as so many tours are planned. You can easily visit Paris with your family as most of Paris tours offered by TripHandle get reductions for children and free of charge for little ones. TripHandle offers Mobility/Wheelchair at all locations. Be sure to add your special service request to your reservation prior to travel either on line during your booking or by contacting TripHandle and having a reservation agent add it for you.
Many tours are organized to visit museums such as the Louvre or give you the opportunity to stroll around the gardens like the Champ de Mars at the bottom of the Eiffel Tower. Take advantage also of experimented tour guides to visit many monuments like Notre Dame or Montmartre. TripHandle offers also private tours to visit Paris in small groups with pick up and drop off at your hotel. You can also visit Paris at your own pace with the hop on hop off tour, which is also available in many cities of France such as Marseille, Lyon and Nice. Choose the right tours to enjoy as much as possible and experience a great holiday in Paris.
When you're trying to plan what to see in Paris you could well find yourself spoilt for choice. A city brimming with culture, style and romance, it draws millions of tourists every year - all searching for the best places in Paris to visit and usually fighting against a tight schedule at the same time.
So if you're planning to visit this romantic hub and want to make the most of your trip, then our selection of the top places to visit in Paris could be just the thing for you. We've put together an expert selection highlighting what to see in Paris on a short trip, with our top ten places to visit stacked alongside a few additional recommendations that didn't quite make the cut but shouldn't be ignored if you have more time.
From world famous lures such as the Eiffel Tower, to hidden gems such as the Crypte Archeologique, there are so many things to do in Paris that a long weekend just isn't enough!
If you are Planning to visit Paris with TripHandle we will guide you to every place you must visit. No worries. No trouble. No Queve to Tickets. We will handle everything with the Paris city tour.
Booking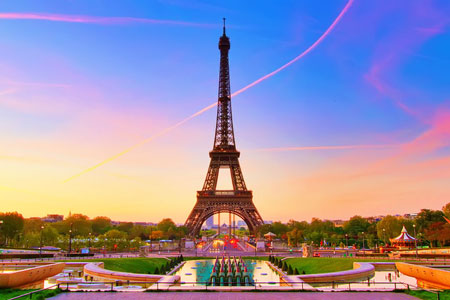 The Eiffel Tower
Probably the best known landmark in Europe, The Eiffel Tower is the symbol of Paris and one of the city's must-see attractions.
More than 250 million people have visited the tower since its construction in 1889: in 2012 there were 6,180,000 visitors. The tower is the most-visited paid monument in the world. An average of 25,000 people ascend the tower every day which can cause long queues. Tickets can be purchased online to avoid long queues.